Northern Virginia Chorale Outreach Program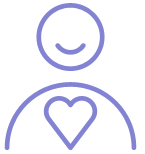 "The Joy of Choral Music"
The Chorale enjoys bringing the joy of choral music to residents of area nursing homes who are unable to attend our concerts.
The residents enjoy listening to familiar tunes and are encouraged to sing along with us!
The Northern Virginia Chorale's Outreach Program has been an important part of the Chorale's mission. On different Wednesdays of each month from September through June, auxiliary singers and regular Chorale members provided seasonal music at area nursing facilities and adult day health care centers, giving the people there an opportunity to enjoy the music and to sing along.
Our outreach programs provide a great opportunity to make a positive impact on the community and for additional participation in the Chorale's activities.  This program is on hold at the present because of Covid restrictions and has not yet been resumed.