Northern Virginia Chorale Outreach Program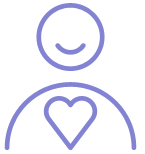 "The Joy of Choral Music"
The Chorale enjoys bringing the joy of choral music to residents of area nursing homes who are unable to attend our concerts.
The residents enjoy listening to familiar tunes and are encouraged to sing along with us!
The Northern Virginia Chorale's Outreach Program is an important part of the Chorale's mission. On different Wednesdays of each month from September through June, auxiliary singers and regular Chorale members provide seasonal music at area nursing facilities and adult day health care centers. Since these audiences cannot make it to our concerts in person, the Outreach Group provides them with an opportunity to enjoy the uplifting music and to sing along.
Our outreach programs provide a great opportunity to make a positive impact on the community and for additional participation in the Chorale's activities.  If you are interested in singing with the Northern Virginia Chorale's Outreach Program, please contact us at our outreach@northernvirginiachorale.org email address. Our regular Outreach Performance schedule is shown below. We try to arrive 15 minutes before the performance or rehearsal time, to be in place and ready to go.
The NVC's Outreach Performance Schedule:
The second Wednesday of each month we perform at:
The
Fairfax Nursing Center:

10701 Main Street, Fairfax Virginia
(Route 236)
Telephone: 703/273-7705
Performance:
1:30 p.m.
Performance:
2:30 p.m.
The third
Wednesday of each month we perform at:
Leewood Nursing Center:
7120 Braddock Road (near Backlick Road)
Telephone: 703/256-9770
Performance:
2:00 p.m. at Adult Day Care
Performance:
3:00 p.m. at
Residential




The fourth Wednesday of each month:



Lincolnia Adult Day Health Care Center:

4710 North Chambliss Sreet
Alexandria, Virginia
Telephone: 703/914-0226

Performance: 2:00 p.m.


__________________________________________________________________________________________________